Hosting Solutions for Prestashop
Prestashop is one of the most complete and advanced e-commerce solutions that exists today. Prestashop allows you to quickly create an online store, integrate messaging services or Virtual POS, manage your customers and orders easily, extend its functionality with addons and more.
In addition, software is free and open source, so you can modify and extend its functionality, ensuring it meets your current and future needs. It is no coincidence that more than 125,000 online stores use Prestashop.
Prestashop is the most commonly used e-commerce solution by our customers. Our hosting plans are prepared for the installation of Prestashop to be very easy and for the store to work properly, always ensuring a good performance.
In general, to create and host a Prestashop store we recommend any of our hosting plans, because they provide enough power for most websites and because it is very easy to install Prestashop from the Hosting Panel.
Si tienes una tienda virtual muy popular te conviene uno de nuestros servidores Cloud Premium. Se trata de un servicio 100% gestionado por nosotros, para que estés tranquilo y te centres en lo realmente importante: tu negocio.
Choose your ideal hosting solution
The perfect solution for sites with low traffic or application development
Up to 20 GB of space
Up to 30,000 visitors/month
Good performance and easy to use
Prestashop Installer included
From 2,99 £/month
For resellers or for those who have many websites.
3 to 100 GiB of space
Up to 30,000 visitors/month
Accommodates all websites you want
Prestashop Installer included
From 9,99 £/month
Advanced solution for popular sites or complex applications
40 to 80 GiB of space
Up to 500,000 visitors/month
Top performance and privacy
Prestashop Installer included
From 41,60 £/month
How to start using Prestashop?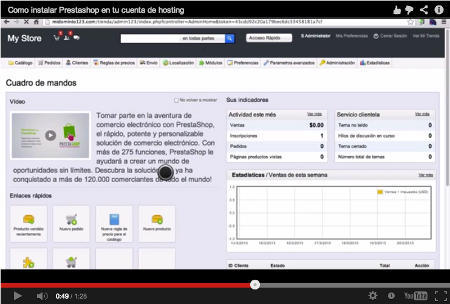 Start using Prestashop is easy with any of our hosting plans.
You just have to buy one of our hosting plans and wait for us to active it. Once activated follow instructions in guide How to install Prestashop on your hosting account and within 5 minutes you will have your online store running.
Later, if your online store grows much in visits and see that shared hosting is not enough, you can migrate to a Cloud Premium server easily and quickly.
© guebs cloud hosting, SL -
Legal Notice
Prices listed in GBP ( £ ) are approximate and are calculated according to: 1 EUR = 0.8681 GBP | See in EUR